<![if !vml]>

<![endif]>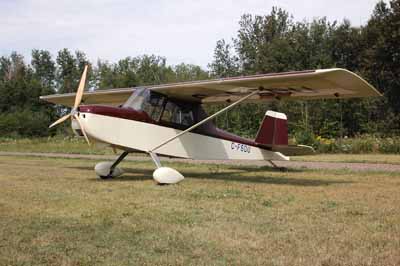 General Description of the 2 place Acrolite 2M Light Aircraft
This aircraft was designed in 1991 and built in 1991 to 1994, it had its first flight in June of 1994. It is a high wing two place tandem seat monoplane powered by a Rotax 65 hp 582 engine. Originally designed for the Rotax 912, performance is surprisingly good with the smaller engine. It was designed as per TP10141 the Canadian specifications for advanced ultralight aircraft. This aircraft also meets the U.S. Sport Pilot requirements. The aircraft is stressed for this category with a 4 g. limit load and 6 g. ultimate load.
When it was announced that the biplane was one of the finalists in the design contest the final development work on this aircraft was set aside until the work on the biplane was done.
Design details
. The aircraft was designed with strength, ability to take abuse, ease of repair, good short field performance and stable flight characteristics as the most important features. The high wing design affords good visibility and requires a pilot with only average flying ability. The design and basic construction is in accordance with standard aircraft practices and aircraft grade materials are used throughout.
Tandem seating was selected for its low drag characteristics and sleek appearance. Most of the popular ultralight twin cylinder two stroke engines can be used from 60 hp on up and the lighter four cylinder aircraft engines like the 80 hp four cylinder Rotax 912 and the 80 hp Jabiru. With an engine of 65 hp or more the aircraft is easily capable of carrying two 180 lb. persons of over 6 ft. in height and full fuel.
The fuselage is long for better stability and is constructed of welded 4130 chrome moly steel as per standard aircraft methods and covered with Polyfiber 1.7 oz. fabric. A welded steel fuselage is generally considered to be the most durable, is easy to repair and provides the best protection against impact damage.
The tail assembly is constructed of 6061 aluminum tube riveted together with 2024-T3 aluminum gusset plates and fabric covered. This type construction allows a full cantilever empennage with low drag and light weight.
Control linkages to the ailerons and elevator are push-pull rods with bearings on each end for positive control and friction free operation. Rudder and steerable tailwheel control is via a common cable.
The wing is of stressed skin construction with a box section main spar, a channel section rear spar and strut braced. Preliminary stress analysis shows it is good for well over 6 g. ultimate load. It is built entirely of 2024-T3 aluminum, fully sheeted and flush riveted with 1/8 inch diameter stainless steel blind rivets. The ailerons are full span aluminum tube, fabric covered and static balanced.
The landing gear is one piece spring aluminum clamped and bolted directly to the bottom of the fuselage with four bolts. This type landing gear has low drag is easy to construct and handles hard landings and rough ground well. The wheels and tires are 600 X 5 aircraft type with cable operated drum brakes. Optionally hydraulic operated disk brakes can also be used. Floats and skis can also be used with a minimum of adapting.
Flying the Acrolite 2M Aircraft
Unlike most small airplanes the Acrolite is a very easy airplane to fly. Ground handling is excellent and in the air it is very responsive yet stable. Control feel is light but firm enough that there is little tendency to over control the aircraft. Stall occurs at a little less than 44 mph. straight ahead with just a little shudder to let you know what has happened. There is very little tendency for it to fall off one wing and the ailerons work right up through the stall. An unintentional spin is almost impossible. The Acrolite has to be forced into a spin. Recovery is immediate after releasing the controls. This is a very honest airplane with absolutely no vices in the air or on the ground.
Present Status
On November 2002 the 582 engine was removed for installation in the new Triplane and a new Rotax 912U engine was purchased for it. During the next year the 912 engine was installed, modifications were made to the airframe to strengthen the landing gear area, the fuselage was recovered, wheel fairings were added and the aircraft was painted in two tone polyurethane. The first flight with the new engine was made on Nov. 8, 2003. The aircraft now has over 60 hours on it with the new engine and performance and reliability have been excellent. We have constructed a new set of skis for it and flew it on skis through the winter of 2004/2005. The skis worked very well and if there is enough interest we will offer plans for them. These skis should work well on most light sport planes of 1300 lbs gross or less.
With over 200 hours on the airframe, all the restrictions have been flown off and the flight testing has been completed, so we feel confident enough in the design to offer the plans for sale. The construction drawings and builders manual are completed and are now available. Please see the ordering page for more information.