<![if !vml]>

<![endif]><![if !vml]>
<![endif]>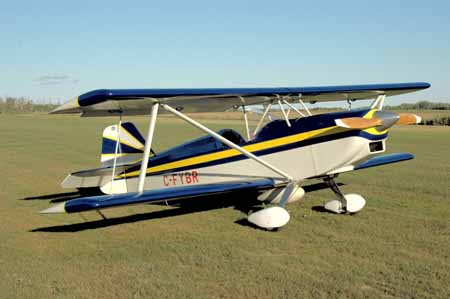 General Description of the Acrolite 1B Light Aircraft
The Acrolite was designed as a good performing entry level aerobatic capable aircraft in a light, low cost package for those pilots that want a more exciting and challenging aircraft to fly than the more common type of light and ultralight aircraft.
Designed by Ron Wilson of Murillo Ontario, it was the winner of the 1995 Scratch Build Design Contest sponsored by Aircraft Spruce and Specialty Co. of Fullerton California and hosted by the Experimental Aircraft Association in Oshkosh Wisconsin. This design won out over 102 entries from all over the world. Aircraft Spruce sponsored the cost of building the airframe and the aircraft was built in one year by Peter Eisenbach of Thunder Bay and Vern Ennis and Harold Spithoff of Kakabeka Falls Ontario. It was designed with strength, ability to take abuse, ease of repair, good short field performance and stable flight characteristics as the most important features. The strut braced staggered wing biplane design affords good visibility and requires a pilot with only average flying ability but with some experience in high performance taildraggers. The design and basic construction is in accordance with standard aircraft practices and aircraft grade materials are used throughout. The aircraft is conservatively stressed for a limit load of 6 G positive and 4 G negative with a 1.5 safety factor at a gross weight of 750 lbs.
One of the nice things about small biplanes is that they can be built in a fairly small area. The largest piece is the fuselage which is approximately 12 feet long 2 feet wide and 4 feet high. Built on a 12' x 2' table with a minimum of 3 feet of walk around area it can be built in any 17 foot long room. A single car garage is more than adequate and the entire aircraft can be fully assembled in an average 2 car garage. The wing panels are built standing on edge in a 8 foot long jig.
For the best performance and reliability the preferred engine is the four cylinder Rotax 912. This is the engine used in the prototype. However the Rotax 582/618 twin cylinder two stroke with a "C" or "E" type gear reduction drive will give good aerobatic performance at a lower cost.
The fuselage is constructed of welded 4130 chrome moly steel tube. A welded steel fuselage is generally considered to be the most durable, is easy to repair and provides the best protection against impact damage. Control linkages to the ailerons and elevator are push-pull rods with bearings on each end. Rudder and steerable tailwheel control is via a common cable. The tail assembly is constructed of 6061 aluminum tube riveted together with 2024-T3 aluminum gusset plates.
The wing is of stressed skin wood construction with a built up box section main spar, built up ribs, plywood sheeting and fabric covered. The builder will also have the option of building the wing entirely of 2024-T3 aluminum with a box section main spar, a channel section rear spar, fully sheeted and flush riveted with 1/8 inch diameter stainless steel blind rivets. The airfoil is GA30-212 semi-symmetrical section designed by Harry Ribblett. This airfoil is noted for its low drag and excellent stall characteristics. The ailerons are semi-full span aluminum tube, static balanced. The fuselage, empennage and ailerons are fabric covered with 1.7 oz PolyFiber fabric.
The landing gear is one piece spring aluminum clamped and bolted directly to the bottom of the fuselage with four bolts. This type landing gear has low drag is easy to construct and handles hard landings and rough ground well. The wheels and tires are 500 X 5 aircraft type with cable operated drum brakes. Optionally hydraulic operated disk brakes can also be used. The tailwheel spring is formed from aluminum flat bar and the tailwheel swivel unit is welded from chrome moly sheet steel. The 5 inch diameter tail wheel is molded hi-impact plastic.
Flying the Acrolite 1B Aircraft
This airplane is a delight to fly. Despite the lower range of engine horsepower used, performance is impressive. The airplane has a three to one speed range (top speed is three times stall) which is exceptional for a small light airplane without flaps.
Unlike most small biplanes the Acrolite is a very easy airplane to fly. Ground handling is excellent and in the air it is very responsive yet stable. Control feel is light but firm enough that there is little tendency to over control the aircraft. Stall occurs at a little less than 45 mph (72.5 kph). straight ahead with just a little shudder to let you know what has happened. There is no tendency for it to fall off one wing and the ailerons work right up through the stall. An intentional spin is almost impossible. The Acrolite has to be forced into a spin. Recovery is immediate after releasing the controls. The Acrolite was designed for entry level or fun aerobatics. Loops, rolls, hammer head turns, Immelman turns and Cuban eights are no problem with a little practice. This is a very honest airplane with absolutely no vices in the air or on the ground. Flying the Acrolite is a real ball, when you move the controls you are rewarded with a smooth quick response and the airplane goes precisely where you want it to. It behaves a lot like a high performance sports car in the air.
While the Acrolite was not intended for cross country use it performs very well at it. It is rock solid and steady in cruise and flies straight and level with minimum control corrections. With the Rotax 912 engine, cruise speed at 5000 rpm is over 110 mph (177 kph). and the engine burns less than 4 U.S. gallons (15.4 liters) an hour. With the main tank, range is limited to about 200 miles(322 kilometers), plenty enough for short cross country use.
Having , that's really what the Acrolite is all about.
The aircraft was flown to the EAA convention in Oshkosh WI in both 1996 and 1997 and was featured in an article in the February 1997 issue of Sport Aviation magazine. In June 1998 a second aircraft was completed and both aircraft were flown to the 1998 convention. Plans, Info packs and building materials packages are available from Aircraft Spruce in Corona California. Approximate cost to build the airframe is less than $8,000. U.S. See the ordering page for further information.